I'd never taken a trip this long, over 5,000 miles across the United States from Virginia to Idaho, Yellowstone, Denver and back. But it seemed like an adventure, and I figured that Tesla Autopilot would do most of the driving. So here we go …
Day 1
Day 1 starts in Palmyra, Virginia where I live. I charged to 100% at home on my Tesla Model 3 Long Range RWD. The result was a surprising 308 miles of range. I expected closer to 325. I think a couple of things, including the fact that I never charge to 100%, nor let it go low, has has not allowed the battery management system to calibrate itself. The car supposedly had 310 miles to start with and a software update should have increased it to 325.
We drove to Louisville, KY on the first of our 400-mile segments. Autopilot did a great job on the Interstate highways. All I had to do was watch. Still it was a tiring day.
A special unplanned side trip was to the Kentucky Folk Art Center at Morehead. Admission is free and the collection is quite interesting.
Day 2
The second segment was from Louisville to Columbus, Missouri, the fastest growing city in the state. We had some seriously heavy rain on the trip, so heavy I could barely make out the lines on the highway. Fortunately Autopilot didn't have that problem. Check out this video, focusing your eyes on the place a driver typically watches to find lane lines:
Some of the rain was so heavy I could hardly even see the road, much less the lines. Autopilot drove in much heavier rain that in that video clip.
When we arrived in Columbus I made my usual check for Tesla News at Electrek, and found that the latest firmware update for the car has increased Supercharging speed. That explains why the car keeps charging before we're finished eating or even going to the restroom. This is not like the old days in our Tesla Model S 75 when we spent lots of time waiting. I considered 75 kW good for that car, but I was peaking at 146 kW today.
I have some comments on Navigate on Autopilot in a separate article.
Day …
So this journal of the great American electric road adventure didn't develop as I planned because there really isn't much adventure. We finished the trip to Idaho. It was totally straightforward. Autopilot certainly took the strain out long drives.
One thing happened after our arrival. We met family and the went on a tour of Yellowstone National Park. My car doesn't seat 6, so a van was rented and LastGas (what I named my Model 3) was parked at a relative's house. That's where I made my mistake. I left Sentry Mode on and that keeps a good part of the car's electronics running. Over several days we lost a good deal of range, perhaps 80 miles. I should have turned Sentry Mode off. But not to worry: when I realized what had happened, I just plugged in to a 120V outlet and the car adds 5 miles an hour. If I wanted Sentry Mode on, I should have plugged in. It's recovered all the lost mileage in less than a day.
While I didn't have the opportunity to drive my Model 3 in Yellowstone, I thought about it. We saw three Teslas in the park. I was surprised to learn that there is a Tesla Supercharger station in West Yellowstone, at the park entrance. I also saw a ChargePoint charging station in the park somewhere. The park roads were perfect for Tesla Autopilot, and Autopilot would make it much easier for the driver to take in the scenery, and to deal with the inevitable backups at animal sightings. I'm not going to drive another 5,000 miles again just to visit Yellowstone in a Tesla, but it would certainly be fun.
Or not…
I want to thank the hypothetical reader of this post for causing me to write that previous sentence, because after writing it I had a realization. I really wasn't that far from Yellowstone, staying with family. I had a free day, so why not take Model 3 to Yellowstone right then, so I did. I drove from Swan Valley, Idaho, to West Yellowstone, Wyoming, and charged up a little while I got breakfast at McDonald's a block away in the cold and light rain and then headed into the park. It was right before the 4th of July, and the park was pretty crowded, so I avoided the big name attractions and visited some new things, Firehole Road, the Keppler Cascade, and the Left Thumb Geyser field. I did see Old Faithful again erupt as I was driving in for lunch. Autopilot worked great on the well-lined roads of Yellowstone and when traffic bunched up, it was so much more pleasant to let the car stop and go.
And back again
Generally I had zero problems plugging in. Only Teslas were parked at Superchargers, and I think 5 of 8 was the most occupancy I found, and usually I was alone. The one exception was in Jackson, Wyoming. All 8 Tesla charging spots were occupied at one point, mine the only Tesla. To be fair, 6 of the occupied parking places are shared spots. Only the slot on the left was parked inappropriately in a reserved spot.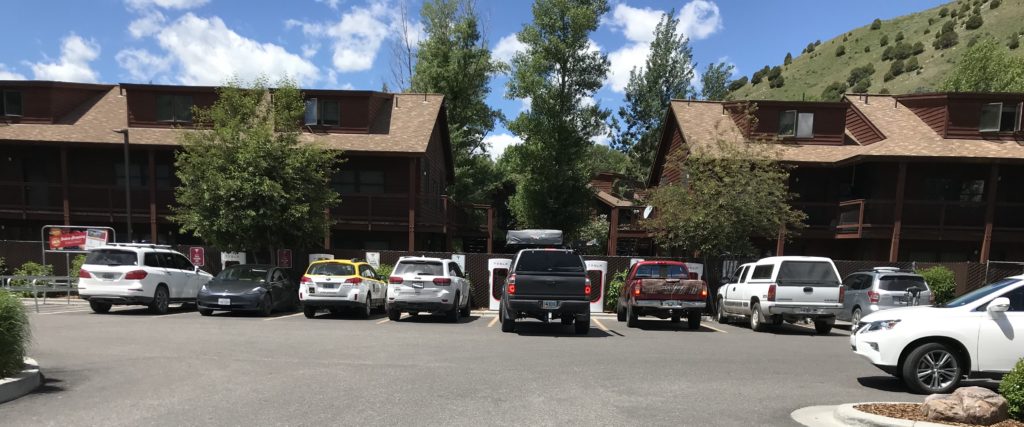 I drove back on my solo trip to Yellowstone through Jackson and stopped at the same location in the middle of the afternoon with a very different result:
In Rawlings, Wyoming, I found what I think was vandalism. Four Superchargers were damaged so that the charging handles couldn't be reattached to the charger–leaving them on the ground. Rawlings is adjacent to Sinclair, an oil company town.
I-70 west of Denver was an awful road, with lines completely worn off on many curves, along with uneven pavement and construction. Autopilot, which worked amazingly across Nebraska, had rough going going east through Colorado.
It was great to visit my son in Denver, who also drives a Model 3.
One odd thing happened at one of the Superchargers–the bill was $0.00 for 30 kWh. The only mishap on the trip was two big rocks thrown at the windshield resulting in two large cracks and the necessity of replacing the glass, which I did the day after we returned.